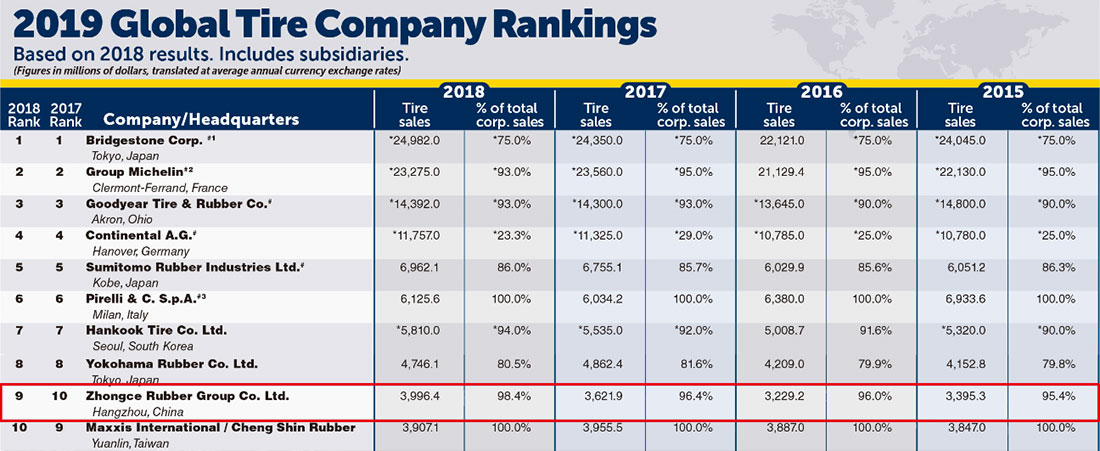 Congratulations! ZC Rubber improves its global ranking to NO.9 among tire companies worldwide, according to the latest report released by Tire Business in 2019.
ZC Rubber is the largest tire company in China. The tire revenue of ZC Rubber improved 10.3% to 3,996 million in 2019, beyond the Maxxis international /Cheng Shin Rubber from Taiwan, China. "Without the support and trust from all our partners and dealers, we can't achieve such success. Thank you very much for their long-term support. The honor is not only for us, but also for them." ZC Rubber says.
With the further development of globalization, ZC Rubber greatly expands the market worldwide and improves the market share together with global partners and dealers. Four oversea branches of Europe, Brazil, U.S and Thailand play important role for the sales increasing in local market. They provide target sales policy and products for the different customers driving on different road conditions.
In the year 2019, ZC Rubber expects to create new record on the revenue with all the partners and dealers. The new target output of ZC Rubber is TBR 20.40 million, Passenger & LT 42.00 million, Bias truck 2.76 million, two-wheel 87.05 million. "We are confidence of the way of business progressing and we believe that cooperated with dealers, we can complete the task and achieve new achievement with sustain effort."
"In the future, we will take the spotlight on the R&D and further improve the R&D technology to produce more premium tires for global customers to meet their requirements. We expect to craft a better future together with our global dealers in the future."