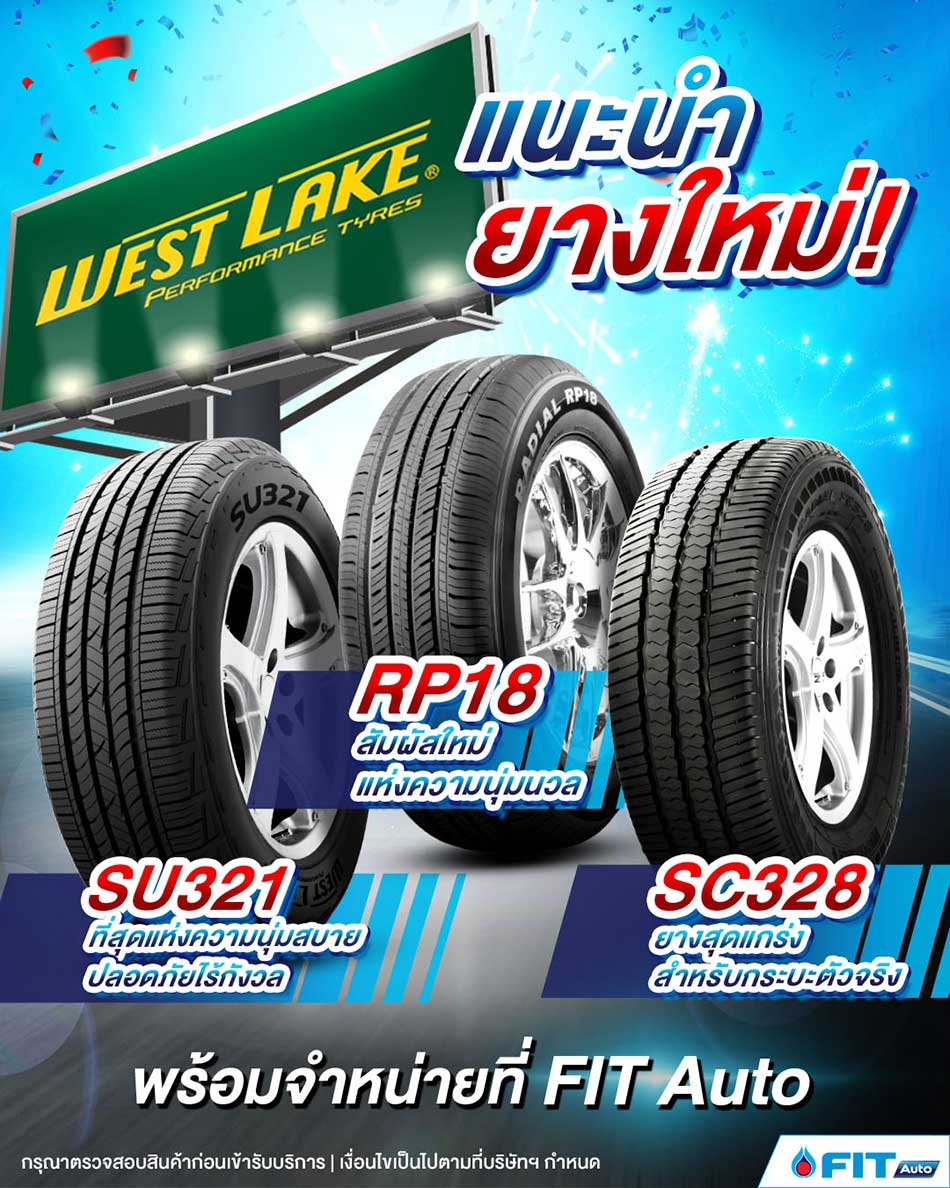 Westlake Tyre has been launched on the official FIT Auto website.
ZC Rubber is expanding its Westlake Tyre brand's retail business in Thailand through its local Westlake distributor Initial Tyre & Accessory Co., Ltd, by cooperating with FIT Auto, a car-care business arm of PTT Plc. Westlake Tyre is now available at the 60 branches of FIT Auto around Thailand, both on e-commerce channels and at offline service centers.
FIT Auto is a car service center that provides light maintenance services for vehicles. It was formerly known as PROCheck at PTT stations. With the extensive service network of PTT stations across the country, FIT Auto will further develop and expand in Thailand. It will also help boost the local retail business for Westlake Tyre.
"Westlake Tyre is one of our tyre brands boasting both premium quality and high value and has boomed in the international tyre market in recent years," Stated ZC Rubber, the brand owner of Westlake Tyre,
"We teamed up with FIT Auto because it has one of the largest online and offline auto service net in Thailand through which most Thais can access our brand."
With one flagship store and more than 200 retail locations in Thailand, Westlake Tyre has been well on its way to becoming the preferred tyre in Thailand.
About ZC Rubber
Zhongce Rubber Group Co., Ltd. (ZC Rubber), headquartered in Hangzhou, China, is the largest tire manufacturer in China. It markets and distributes a full range of passenger car tyres, truck and bus tyres, off-the-road tyres, industrial tyres, agricultural tyres, bicycle tyres, motorcycle tyres, and ATV tyres to more than 160 countries worldwide. The company has Westlake, Goodride, Chaoyang, Arisun, Trazano, and Yartu tyre brands to meet the diverse needs of consumers worldwide.
About FIT Auto
FIT Auto is a car-care business arm of PTT Plc, which is a Thai state-owned oil and gas conglomerate. Located in a PTT Station, FIT Auto is a one-stop service center providing light maintenance for vehicles, such as scheduled maintenance, 30-item check-up, lubricant and car fluid change, battery change, brake pad change, shock absorber change, and tire change as well as wheel alignment and balancing, tire rotation, and car suspension check.