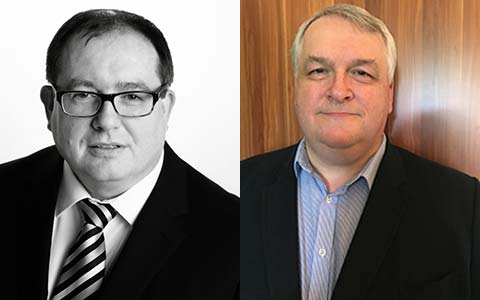 ZC Rubber has appointed Mr. John Ruddy as European OTR Tyre Sales Director and Mr. Mark Turner as European Agriculture Tyre Sales Director.
Mr. John Ruddy has decades of experience working in European OTR tyre industry. He has joined ZC Rubber as European OTR Sales Manager in 2019 and it's his fourth year working for ZC Rubber. When asked about his appointment, John said: "I am very proud to see we have set up a great network cross every corner of Europe market. The one stop supply of premium quality off the road tyres brings great benefits to our Europe partners."
Mr. Mark Turner has been involved in agriculture tyre business for more than 25 years. He has served as Vice Chairman of the ETRTO Agricultural Sub-committee, Coordinator of the experimental standards group within the ETRTO Agricultural Sub-committee, and the Farm & Industrial Tire Representative at the ETRMA. Additionally, he participated actively in both committees, contributing to the process to restructure the Europool categories in 2011 and 2012 as well as framing new standards in the ETRTO categories such as IF CFO and VF NRO.
Mark said: "Tianli has started its first radial Agriculture tyre in 2006; they are always important player in Europe Agriculture tyre market. Zhongce Rubber Group acquiring Tianli tyres in early 2022 was very smart decision and will reinforce Tianli's unique brand awareness in the off highway segment."
Mr. Ge Guorong, the Senior Vice President of Zhongce Rubber Group added: "Zhongce has relocated its OTR factory to Tianjin after the acquisition of Tianli brand. We are now one of the very few tyre company that can offer more than 2000 SKUs of off-highway products from one central factory, and we have promised to invest much more in the following years, aiming to be among the global top 3 players in the off-highway tire business in future. The value to our customers is enormous. In the past 2022, we have reached the historical sales record in off-highway tyre business, and our capacity is still not enough for the strong demand from partners across the world, especially from our international partners. Our commitment to all of our customers is to provide both local service and global supply through our local team working with local partners."
ZC Rubber, the company with a history of more than 60 years, has been ranked as Top 8 in 2022 global tire companies in terms of sales revenue. To discover the full range of tyres from ZC Rubber, visit www.zc-rubber.com and www.tianli-tyre.com