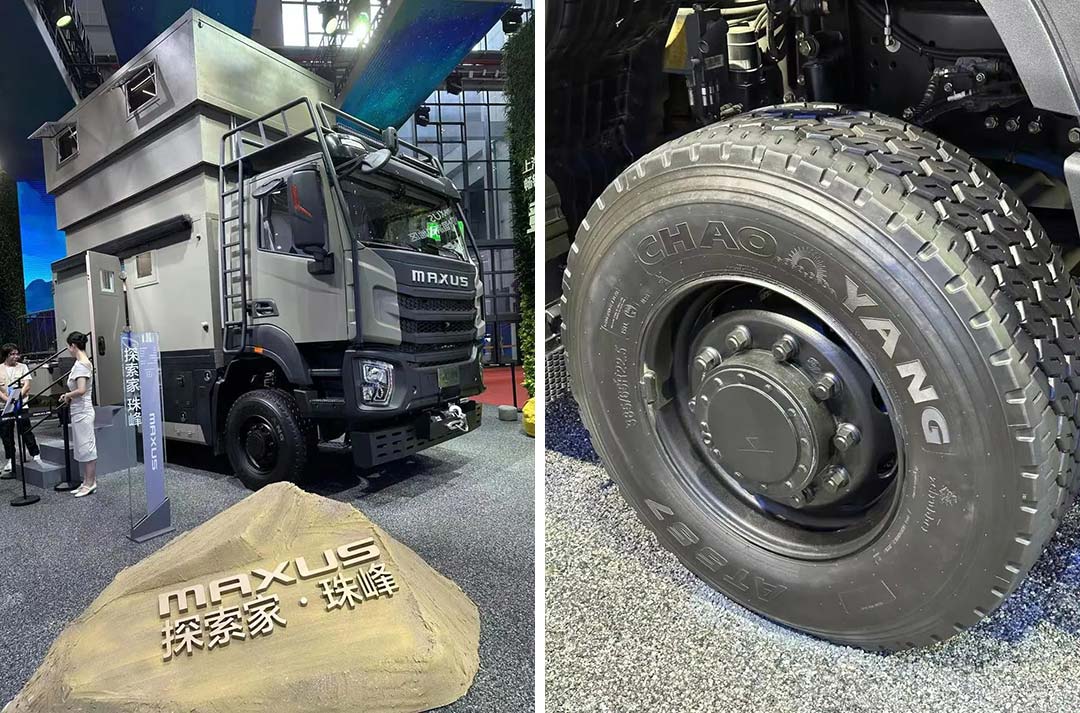 On the 2023 Shanghai Auto Show, SAIC Maxus showed its heavy truck RV model Explorer Everest. This premium RV is fitted with CHAOYANG AT557 in size 385/65R22.5 as the original equipment tire.
The CHAOYANG AT557 is an all-season truck tire excels in off-road performance and on-road comfort. It features beveled open shoulder and self-cleaning tread design with stone ejectors in the groove bottom to ensure long-life service both on and off road conditions.
The advanced compound provides satisfactory mileage and further reduced rolling resistance while reducing cuts and penetrations from off-road driving.
The application of ZC Rubber PSCT technology in the tire design leads to a more uniform contact pressure for less uneven wear and ensures minimum profile deformation.
Furthermore, the CHAOYANG AT557 tire incorporates ZC Rubber's latest BWT (Belt Wrap Technology), which significantly improves tire durability, safety, and rolling resistance.
ZC Rubber has been committed to developing tire products satisfy the diverse customer needs and a broad range of driving styles over the years. The company will continue to put it utmost effort in product development and technology innovation in response to evolving market demands.
About ZC Rubber
Zhongce Rubber Group Co., Ltd. (ZC Rubber), headquartered in Hangzhou, China, is the largest tire manufacturer in China. Ranked as the Top 8 global tire company, ZC Rubber markets and distributes a full range of passenger car tires, truck and bus tires, off-the-road tires, industrial tires, agricultural tires, bicycle tires, motorcycle tires, and ATV tires to more than 200 countries worldwide. The company has WESTLAKE, GOODRIDE, CHAOYANG, ARISUN, TRAZANO, and YARTU tire brands to meet the diverse needs of consumers worldwide.
For more information, please visit the ZC Rubber website at www.zc-rubber.com.